Case for Support:
Drive Lasting Economic Growth
LSU Health Shreveport not only impacts the health of our region's citizens but also positively impacts the health of our region's economy year after year. As the 6th-largest employer in Caddo-Bossier providing over 4,000 jobs, LSUHS has a direct economic impact of $600 million. If you consider the number of alumni practicing in North Louisiana, the number increases to $3 billion per year. These figures are just a small insight into the immeasurable effect of having a thriving academic medical center in North Louisiana. The ground-breaking Center for Medical Education and the Center of Excellence for Emerging Viral Threats will be the fuel that continues to drive this vital economic engine into the future.
Each year, thousands of hopeful medical students apply to LSU Health Shreveport, but only a small percentage are accepted. Increasing each class size by 50 students will allow more students the opportunity to train at our prestigious medical center, then stay in Louisiana to practice. These additional graduates are crucial to addressing the healthcare shortage in our state and region. With LSU Health Shreveport graduates already making up 70% of the healthcare workforce in North Louisiana, our region is in excellent hands. Physicians play a vital role in their local economies. A recent study shows that, on average, each Louisiana physician contributes $2 million and 11.9 jobs to the state economy.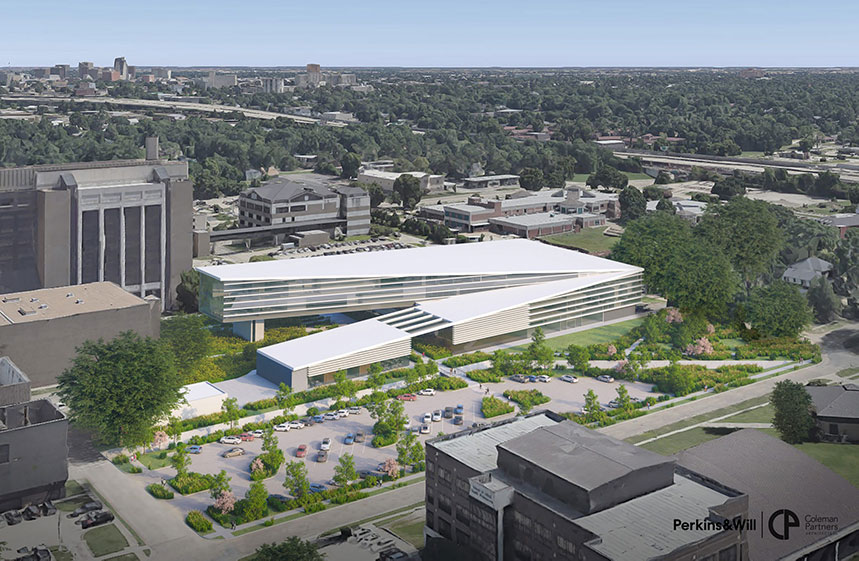 The Center of Excellence for Emerging Viral Threats is where world-renowned researchers and virologists will continue to impact the current COVID-19 pandemic through robust community testing, clinical trials, vaccine deployment, and genomic sequencing of the virus while preparing for the viral pandemics of the future. The continuation of life-saving scientific discoveries places LSU Health Shreveport and Northwest Louisiana on the map with other national leaders in research. Upgrading to a top-level, BSL-3 viral containment lab will provide the Center of Excellence for Emerging Viral Threats the capability and physical space to better address future viral threats. With this and other research innovations, LSU Health Shreveport will be well-positioned to further increase its research funding appreciably.
This modern building coupled with innovative educational opportunities will attract even more highly accomplished students and faculty members from every corner of the world. Currently, LSU Health Shreveport is comprised of students and faculty from over 60 countries. Enhancing the diversity in the Shreveport community will only make our region and state a better place to live. LSU Health Shreveport is also committed to growing our outstanding faculty, providing additional highly-skilled individuals to our workforce and community.
As LSU Health Shreveport prospers under the creation of the Center of Medical Education and the Center of Excellence for Emerging Viral Threats, so does the regional economy.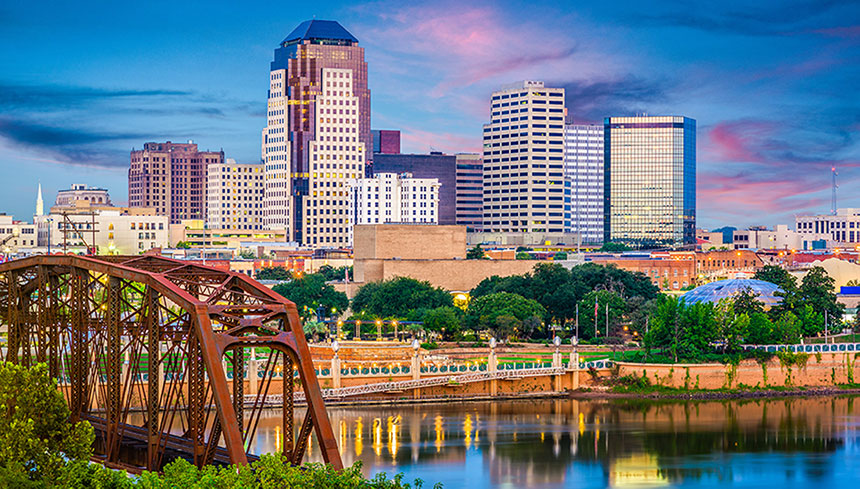 This self-guided tour walks you through the innovative Center for Medical Education. Get an up-close look at the 500-seat auditorium, the Clinical Skills Center, the state-of-the-art fitness rooms, the Center of Excellence for Emerging Viral Threats, and everything in between.