Case for Support:
Improve Louisiana's Health
Addressing the healthcare shortage in Louisiana is imperative to making our state healthier. For many Louisianans, especially those in rural or underserved communities, finding a primary care provider is difficult. In 2020, Louisiana ranked 37th in access to healthcare and 40th in the number of primary care providers. Central to any thriving community is accessible, high-quality healthcare. Our central calling is to meet this deficit head-on, as this is precisely why the School of Medicine in Shreveport was founded in 1969. Since then, our medical school has continued to grow to meet the ever-increasing need for more healthcare providers—especially in North Louisiana. However, our current facilities have reached their maximum capacity.
The Center for Medical Education will allow LSU Health Shreveport to graduate 50 more healthcare professionals per year.
Impressively, LSUHS ranks in the top 5% in the nation for retaining graduates in-state to practice medicine. 70% of physicians in North Louisiana obtained a portion or all of their medical education training at LSUHS. These numbers tell us if LSU Health Shreveport can attract a student, there is a strong likelihood they will stay here locally to practice. With better access to expertly trained healthcare providers, LSU Health Shreveport can improve the health of our great state.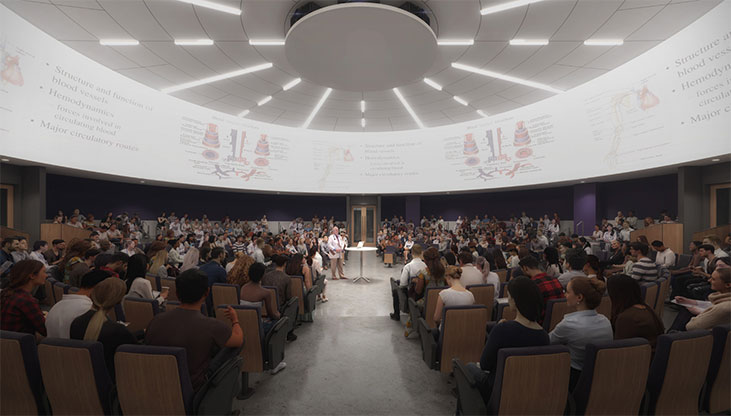 As medical education and technology improve across our nation, so must the training opportunities at LSU Health Shreveport. When the LSU School of Medicine's first class of 32 graduated in 1973, they could not have imagined the advancements medicine would make or the growth of their medical school, all leading to the Center for Medical Education becoming a necessity. This dedicated education space will provide two innovative 250-seat classrooms, a large 500-seat auditorium, Clinical Skills Center, a standardized patient examination suite, private small-group study rooms, training labs with state-of-the-art technology, and so much more.
With each passing year, the health of Louisianans becomes more dire. In 2020, America's Health Rankings Annual Report declared Louisiana the least healthy state in America. Our citizens have several health risk factors contributing to this, including high rates of obesity, diabetes, and socio-economic barriers. By expanding our current facility, we can recruit even more deserving students who are invested in improving our state's health when they enter the workforce. It is also important that we continue to attract outstanding faculty members who can bring new ideas and innovation to our curriculum. 
Your investment in the Center for Medical Education will allow LSU Health Shreveport to continue attracting outstanding students and fulfill its mission to educate and train the physicians and other healthcare providers needed to meet the increasing healthcare demands.
This self-guided tour walks you through the innovative Center for Medical Education. Get an up-close look at the 500-seat auditorium, the Clinical Skills Center, the state-of-the-art fitness rooms, the Center of Excellence for Emerging Viral Threats, and everything in between.