Case for Support:
Foster Research Innovation
Center of Excellence for Emerging Viral Threats
The Center for Medical Education will be the new home to the Center of Excellence for Emerging Viral Threats (CEVT). The CEVT will provide cutting-edge research and training opportunities for students and faculty while positioning LSU Health Shreveport as a national leader in the diagnosis, testing, and treatment of new viruses and other pathogens. The Emerging Viral Threats Lab was first created to address the ongoing threat of coronavirus. With the expertise of nationally and internationally renowned virologists at LSU Health Shreveport and the support of Governor John Bel Edwards, the EVT Lab was taken from conception to operation in just twelve days. Since its inception on March 25, 2020, the EVT Lab has been an invaluable resource for North Louisiana in combating the pandemic as they've processed over 500,000 PCR tests for 90% of Louisiana's parishes.
These test samples have allowed LSU Health Shreveport to lead Louisiana in genome sequencing with over 10,000 SARS-CoV-2 genomes sequenced, holding the potential for long-term control of COVID-19 and in preparing for future viral threats. Currently, the CEVT is the only academic center in Louisiana to obtain complete genome sequencing of the viruses and is working closely with the World Health Organization (WHO) and CDC-sanctioned testing labs. In addition, the CEVT has provided life-saving clinical trials, expanded testing, and developed large-scale community vaccination clinics to include outreach to the medically underserved.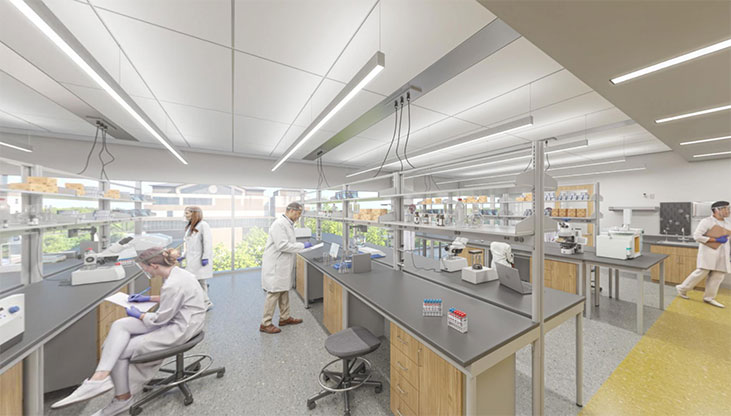 Expand Research Infrastructure
Housed in the Center for Medical Education, the Center of Excellence for Emerging Viral Threats will ensure research innovation for years to come in North Louisiana. The CEVT, like the School of Medicine, is currently limited by space. Relocating to the Center for Medical Education will provide the space and capability for the lab to become a Biosafety Level 3 (BSL-3) Lab, designed for top-level viral containment, which will enhance research capability to address future viral threats. The continuation of life-saving scientific discoveries places LSU Health Shreveport and Northwest Louisiana on the map with other national leaders in research. 
The success and the accomplishments made during the pandemic have paved the way for the Center of Excellence for Emerging Viral Threats to become an established diagnostic lab that expands to the detection of multiple pathogens that might affect the health of Louisianans and serve as a surveillance lab for the entire state and region. The CEVT will provide a strategic recruitment tool for more highly accomplished faculty and students nationally and internationally. In doing so, the Shreveport-Bossier region will be an attractive location for biotech investment.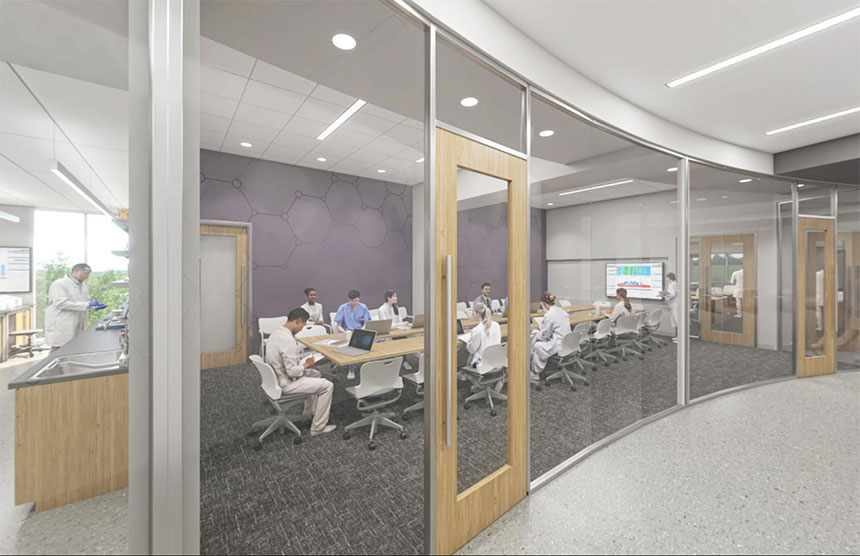 This self-guided tour walks you through the innovative Center for Medical Education. Get an up-close look at the 500-seat auditorium, the Clinical Skills Center, the state-of-the-art fitness rooms, the Center of Excellence for Emerging Viral Threats, and everything in between.